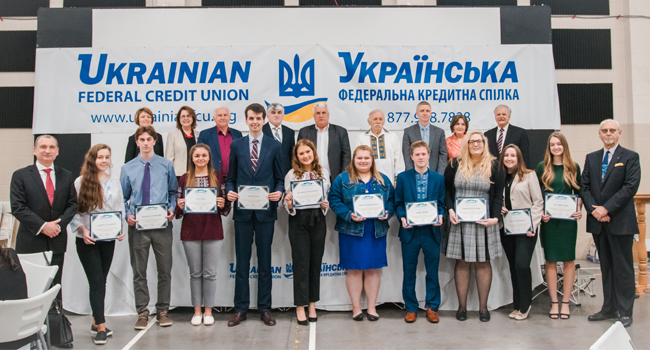 All undergraduate and graduate scholarship recipients were recognized at the 2019 Annual Meeting on Sunday, April 7 in Spencerport, NY.
2019 undergraduate scholarship recipients include Mark Croop, Roman Czornobil, Mariya Galaburda, Olena Herasimchuk, Eva Lyko, Julianna Pavlovych, Peter Shur, Victoria Shur, Diana Slobodian, and Christina Witters. (Not pictured: Denis Arkadyev, Antonina Bandrivska, David Bosak, Katya Dashkevich, Artur Hrabar, Marina Skripnichuk, and Oleg Zadoyannyy.)
2019 graduate scholarship recipients include Stefan Sirko, Kateryna Szylo, Liliya Semenyuk and Alina Maftey.
About Ukrainian-American Community Foundation
Since its inception in 2010, the Ukrainian-American Community Foundation (UACF), Inc. donated over $213,000 to help support various community, cultural, humanitarian and educational initiatives. UACF has so far awarded over $105,000 in undergraduate and graduate scholarships.
In addition to Ukrainian FCU, other scholarship donors included Selfreliance Association of Rochester, Ukrainian Civic Center, the Diaczenko-Szostak family in memory of Wasyl and Anna Diaczenko, Rochester Ukrainian Group, Walter Denysenko, Wasyl and Anna Kornylo, Connie DiNicola and Ken Harzynski, owners of EZ Income Tax Service Acquisition, LLC.
The UAC Foundation, Inc. looks forward to continuing its mission of serving as a non-profit, 501(c)(3) charitable institutional structure for the Ukrainian Federal Credit Union for many years to come. Serving on the UAC Foundation Board of Directors in 2018 were – Tamara Denysenko, President, Wasyl Kornylo, Vice-President, Yaroslav Fatyak, 2nd Vice-President, Barbara Gutierrez, Treasurer and Evhen Lylak, Secretary. Joining the UAC Foundation Board in 2019 are Galina Dyakiv, Mirko Pylyshenko, Bohdan Zakharchyshyn and Volodymyr Otvaruchin.