Ukrainian Federal Credit Union (UFCU) is committed to helping you better understand your credit health. That is why with a credit card from UFCU, you now get free access to your FICO® Score.
Used by financial institutions to help gauge credit worthiness, your FICO® Score can be one of the most influential and valuable pieces of information to shape your financial future. The FICO® Score is the best known and most widely used credit score model in the United States.
A FICO® Score is a number that represents your creditworthiness and is a summary of information on your credit report. This data is grouped into five categories as outlined below. The percentages reflect how important each of the categories is in determining how FICO® Scores are calculated.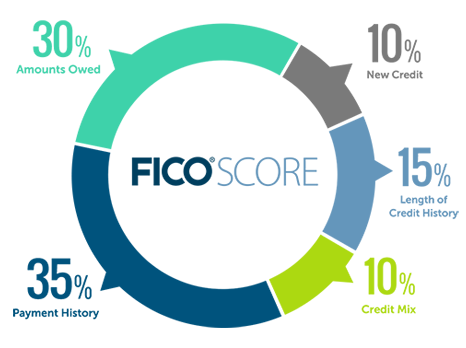 When a lender receives your FICO® Score, key score factors are delivered with the score. These key score factors are the top factors that affected the score. Knowing these score factors can help you better understand your financial health over time.

Ukrainian Federal Credit Union Credit Card holders will receive their updated FICO® Score 5 based on Equifax data, when available, on a quarterly basis. You'll see this score on your monthly statement and within Online Banking, so you can stay on top of your credit and avoid surprises.
Curious about your credit report? You are entitled to one free credit report per year from each of the major credit bureaus. Request yours online by visiting Annual Credit Report. During the COVID-19 pandemic, accessing your credit is important. That's why Equifax, Experian and TransUnion are continuing to offer free weekly online credit reports.
What is a FICO® Score? from FICO B2C Scores on Vimeo.
How are credit reports and scores created? from FICO B2C Scores on Vimeo.
How lenders use FICO® Scores from FICO B2C Scores on Vimeo.
FICO is a registered trademark of Fair Isaac Corporation in the United States and other countries. Ukrainian Federal Credit Union and Fair Isaac are not credit repair organizations as defined under federal or state law, including the Credit Repair Organizations Act. Ukrainian Federal Credit Union and Fair Isaac do not provide "credit repair" services or advice or assistance regarding "rebuilding" or "improving" your credit record, credit history or credit rating.