Ukrainian FCU's Wasyl Kornylo Wins Volunteer of the Year Award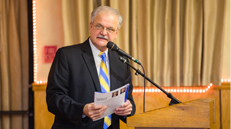 Rochester, NY — Wasyl Kornylo, President & Board Chairman of Ukrainian Federal Credit Union, headquartered in Rochester, NY, was chosen as Volunteer of the Year by the National Association of Federally-Insured Credit Unions (NAFCU). Kornylo and other winners in NAFCU's 2018 Annual Awards Competition will be honored during NAFCU's 51st Annual Conference and Solutions Expo in Seattle, Wash., June 19-22, 2018.
"Mr. Kornylo's dedicated efforts are reflected in the continued success of Ukrainian Federal Credit Union, demonstrating thoughtful leadership skills, as well as developing new ideas that are beneficial to our organization's growth," said Oleg Lebedko, CEO, Ukrainian Federal Credit Union. "This award reflects Wasyl's exemplary services on behalf of our members."
This year's NAFCU Annual Awards Competition honored eight winners in total and was selected by a committee of credit union leaders. Nominees for CEO of the Year, Credit Union of the Year, Professional of the Year and Volunteer of the Year were judged in two categories: credit unions with assets of more than $250 million and those with assets of $250 million or less. Kornylo was a winner among credit unions with $250 million or less in assets.
Annual Awards Competition winners will be celebrated during the conference's general session and breakfast on June 20 and profiled in the July-August edition of The NAFCU Journal magazine.
Ukrainian FCU was established in 1953 and now serves nearly 21,000 members nationwide. Ukrainian Federal Credit Union is a member of NAFCU.