UFCU CEO earns distinguished service award!
Around 3,000 attendees from 60 countries gathered this week in Vancouver, British Columbia, Canada for the annual World Credit Union Conference. The first day of the conference featured an opening ceremony, reception, and a very special announcement. Our very own CEO, Oleg Lebedko, was recognized with the 2023 Distinguished Service Award alongside former WOCCU President and CEO, Brian Branch. Since 2017 Mr. Lebedko has participated as a volunteer for the WOCCU Credit for Agriculture Producers' (CAP) Project, traveling to Ukraine to create a strategic plan for the All-Ukrainian Credit Union Association. In 2021 Mr. Lebedko began serving on WOCCU's International Governance Committee for the CAP Project.
"While this award is recognition of my individual achievements, I firmly believe it is a reflection of the extraordinary work carried out by many credit unions worldwide and, specifically, by the activists of the credit unions in Ukraine and Ukrainian diaspora credit unions in the U.S. and Canada, representatives of which are present here today. I want to dedicate this award to the brave and courageous Ukrainians, including many credit union employees and members, who have been fighting for the sovereignty and freedom of Ukraine," said Mr. Lebedko.
As of June 2023, CAP Project partner credit unions had disbursed a total of 1,142 Liquidity Fund loans worth $2.83 million to micro-, small, and medium sized enterprises (MSMEs) in Ukraine. 809 of those loans, totaling nearly $2 million, were issued during wartime. To support consider donating to the Ukrainian Credit Union Displacement Fund: https://secure.givelively.org/donate/worldwide-foundation-for-credit-unions-inc/ukraine-cu-displacement-fund. Sincere thanks to the many credit unions in the U.S. who have fundraised for this initiative.
Source: World Council of Credit Unions / https://www.woccu.org/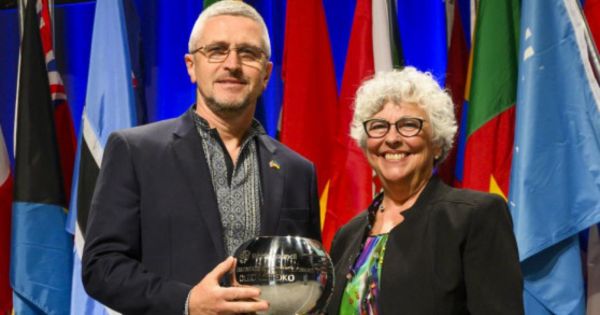 About WOCCU
World Council of Credit Unions is the global trade association and development platform for credit unions. World Council promotes the sustainable development of credit unions and other financial cooperatives around the world to empower people through access to high quality and affordable financial services. World Council advocates on behalf of the global credit union system before international organizations and works with national governments to improve legislation and regulation. Its technical assistance programs introduce new tools and technologies to strengthen credit unions' financial performance and increase their outreach.
About UFCU
Ukrainian FCU (UFCU) was founded in 1953 by Ukrainian-Americans in Rochester, New York, and provides service in English and Ukrainian languages to meet the needs of over 26,000 members. The credit union with assets exceeding $380 million has 14 full-service branch offices nationwide and employs more than 80 individuals. Branches are located in New York, Massachusetts, Ohio, North Carolina, South Carolina, California, Oregon, and Washington. Coming soon to Florida! Members of over 70 common bond organizations may join the credit union. You don't have to be Ukrainian to join! UFCU is insured by NCUA.