Saving automatically, for the unexpected, among top priorities for America Saves Week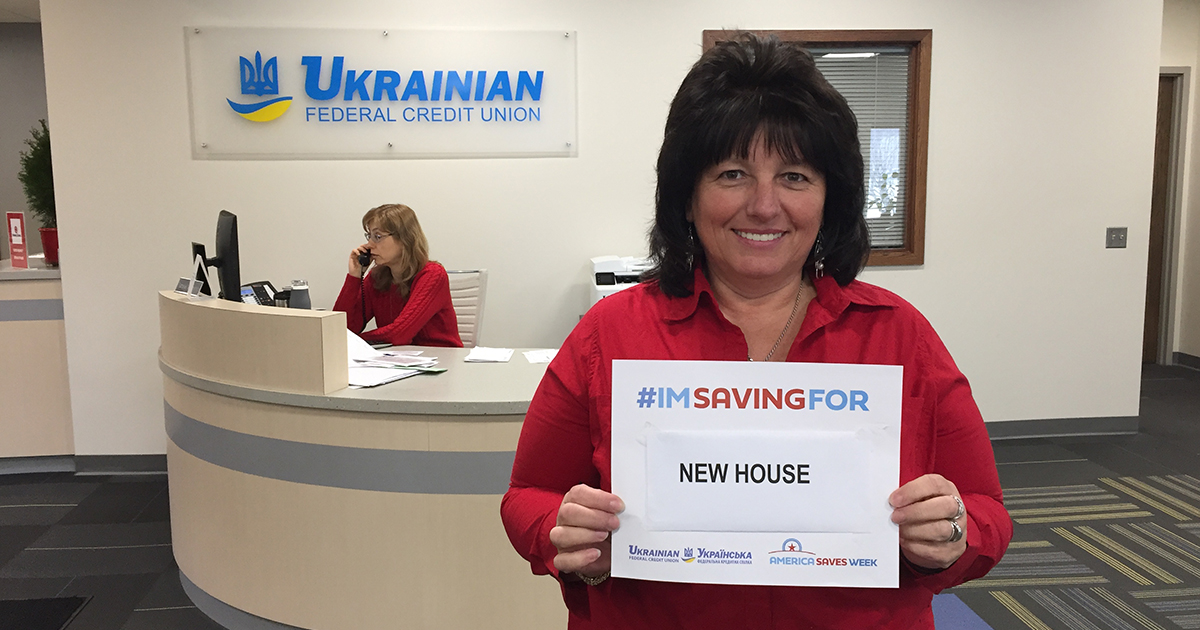 America Saves Week 2021
We're officially participating and you should to! / Ми офіційно беремо участь. Долучайтеся!
America Saves Week is all about individual financial wellness, and creating as well as maintaining a plan. For the past several years we've encouraged our UFCU team to take the America Saves Pledge, and in 2021, we're inviting all of our members and friends to join! There are many benefits to taking the pledge on our website, and all tools, resources, and America Saves Week events are provided at no cost. Did we mention the #ImSavingFor sweepstakes for a chance to win $500? Take the Pledge and be an active participant. You'll thank yourself later!
Reflecting on the past year and the lasting benefits of America Saves Week UFCO CEO, Oleg Lebedko, stated that, "Promoting automatic savings and other proven approaches to individual financial wellness is another way for our Credit Union to show support for and help guide our members through this challenging time."
During the week, we'll be focusing on the following themes: / Під час тижня ми зосередимося на таких темах:
| | | |
| --- | --- | --- |
| Monday, February 22, 2021 | Save Automatically | Ощаджувати автоматично |
| Tuesday, February 23, 2021 | Save for the Unexpected | Ощаджувати на непередбачене |
| | →Register here for Jumpstart Your Savings With Your Tax Refund Virtual Town Hall 12pm ET | |
| Wednesday, February 24, 2021 | Save to Retire | Ощаджувати на пенсію |
| Thursday, February 25, 2021 | Save by Reducing Debt | Ощаджувати, щоб зменшити борг |
| | →Register here for Tackling Debt Virtual Town Hall 2pm ET | |
| Friday, February 26, 2021 | Save as a Family | Ощаджувати сім'єю |
Have questions about your finances? The Association for Financial Counseling and Planning Education (AFCPE) is offering FREE virtual sessions!
What else? / Щo ще?
After you take the pledge on our website, share what you're saving for by emailing us a photo or tag us (@UkrainianFCU) in your photo on Facebook or Instagram. Each person will then be automatically entered into a prize1 raffle to win one of several $25 gift cards! Last day to submit a photo is Sunday, 2/28/21. / Треба подати фoтo до кінця дня 28го лютого.
###
UFCU was founded in 1953 by Ukrainian-Americans in Rochester, New York, and provides service in Ukrainian and English languages to meet the needs of over 22,000 members. The credit union with assets exceeding $300 million has 13 full-service branch offices nationwide and employs more than 80 individuals. Branches are located in New York, Massachusetts, Ohio, North Carolina, California, Oregon and Washington.
Since 2007 America Saves Week, coordinated by America Saves and its partners, has been an annual celebration as well as a call to action for everyday Americans to commit to saving successfully. Through the support of thousands of participating organizations, together we encourage our local communities to do a 'gut-check' on their finances and saving behaviors. The America Saves pledge is the framework that allows savers to set a goal, and make a plan to achieve better financial stability.
1Must be 18 years of age or older to win a gift card. Must be a UFCU member with at least a Primary Share (Savings) account in good standing. Final day to submit a photo is Sunday, 2/28/21. Winners will be randomly selected and contacted during the first week of March. Limited to one submission per person.