Monroe County Announces the Launch of Fast Forward Monroe 2.0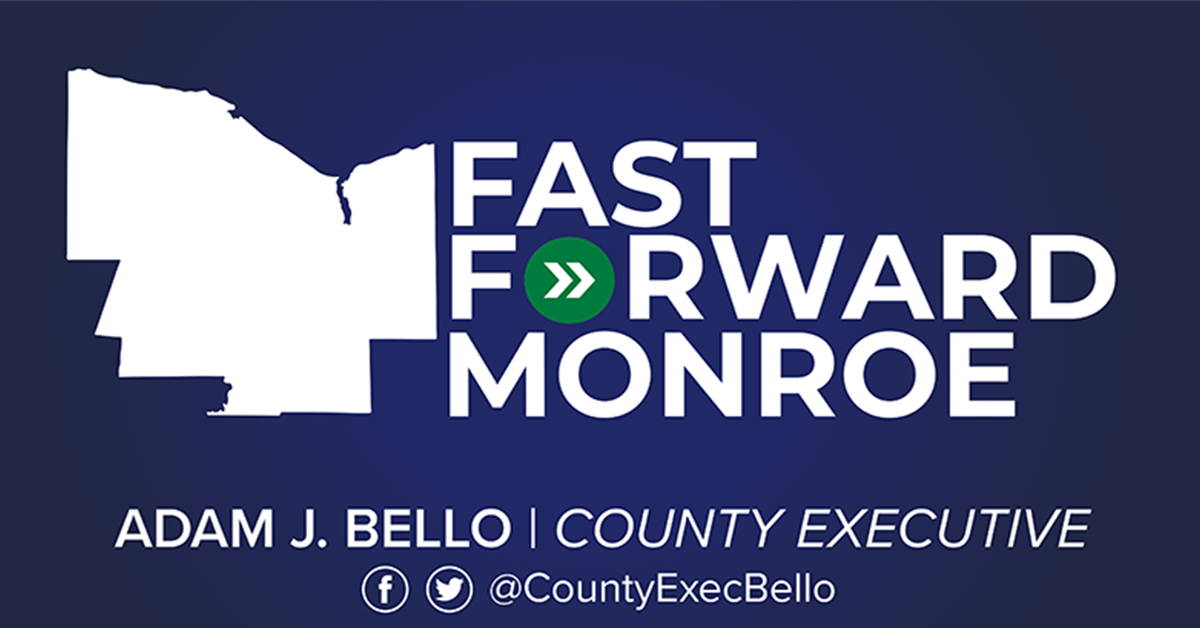 Reposted from the Office of Adam J. Bello, Monroe County Executive
Applications must be submitted by Wednesday, October 8th at 5pm!
(Wednesday, September 8, 2021)  – Monroe County Executive Adam Bello today announced the launch of Fast Forward Monroe 2.0, an expansion of the successful Fast Forward Monroe Small Business Grant Assistance initiative. Under FF 2.0, the county will join with the Urban League of Rochester, PathStone Foundation, and the Ibero-American Action League to make the program more accessible and provide comprehensive application help and support.
"Small businesses are a key economic engine for our local economy and they face unprecedented hardships created by the COVID-19 pandemic," said Monroe County Executive Adam Bello. "That's why I launched the Fast Forward Monroe Small Business Grant Program last year. But just like this pandemic is not over, the economic stress on our business owners has not ended, and we know that minority-owned small businesses have suffered an even more dramatic hit. Through these important partnerships, Fast Forward 2.0 recognizes these ongoing difficulties and helps make it easier for applicants to gain access to the help they need. I am grateful to Congressman Joe Morelle, Sen. Charles Schumer and Sen. Kirsten Gillibrand for their help in securing CARES Act funding for our small businesses."
The initial Fast Forward program, launched in October 2020, helped well over 1,500 local small businesses survive the pandemic with $22 million of funds from the Coronavirus Aid, Relief, and Economic Security (CARES) Act.
Fast Forward 2.0 is funded with an additional $20 million in CARES Act money, which must be distributed by the end of this year. In addition to offering businesses more personalized help with completing their applications via the partnership with Urban League, Ibero and PathStone, the Monroe County Department of Planning and Development has added nine temporary workers in order to make the approval process faster.
Eligible businesses can receive grants of either $10,000, $15,000, or $20,000 depending on the number of full-time employees. The money can be used for rent, payroll, operating expenditures, or COVID-related business expenses and other funding shortfalls.
Businesses that did not receive funding in the first version of the program will be given priority under Fast Forward 2.0.
Eligibility
Is there an age requirement to apply?
Yes, you must be 18 years or older at the time of submission to apply.
Can I apply for a grant if my company is based outside Monroe County, NY?
No. Only companies located in Monroe County, NY, with 90% of their employees working in Monroe County are eligible to apply.
I have a business that has multiple locations. When it is stated that the business must be 50 or fewer FTEs (full-time equivalents), does this apply to only one location, or does it apply to the company as a whole?
All employees count towards the 50 FTE census. To be eligible to receive the grant, 90 percent of the company's employees must be based in Monroe County, NY.
Am I eligible if I live outside of Monroe County, NY?
As long as your business is located in Monroe County, NY, you are eligible to apply. Your personal residence does not impact this application.
What are the eligibility criteria?
Companies must meet the following criteria to be considered eligible for a grant.
Business Type: For-profit companies; LLPs, LLCs, Sole Proprietorships, C-Corps, and S-Corps
Age of Company: Formally established and in continuous operation since at least March 1st, 2020
Location: Based in Monroe County, NY
Revenue: Generated more than $0 and less than $7.5 million in annual revenue, based on Federal Tax Return
Employees: 50 or fewer W-2 based FTEs at the time of submitting your application
Other: Companies must be able to provide evidence of a significant loss of gross revenue, or a reduced level of production, sales, employment, or service due to COVID
Applications must be submitted by Wednesday, October 8th at 5pm!