Mirko Pylyshenko Retrospective
Long-time members of the Rochester Arts Community and its supporters gathered together on Friday evening December 8, 2017 for a celebration at an exhibition of Ukrainian Art – "Mirko Pylyshenko Retrospective (Prints from 1965-2017)". The exhibit was held at the Flower City Arts Center on Monroe Avenue in Rochester, New York. A consummate print-maker, Pylyshenko created numerous prints, drawings, and paintings over the years and the exhibit included some of his earliest works.
Pylyshenko, an art educator at SUNY Brockport from 1964 until 2000, served as Chair of the Art Department there for more than ten years during his tenure. Among other community outreach accomplishments, Pylyshenko served as Past-President of the Ukrainian Federal Credit Union Board of Directors and is a UFCU Director Emeritus. He continues to serve the community as Chair of the UFCU Library Committee, is active in the Irondequoit-Poltava Sister Cities Program Committee, and provides support to the National University of Ostroh Academy in Ukraine. In the past, he was instrumental in creating the University of Rochester Rush Rhees Library Collection of Ukrainian Life in Rochester through a grant from New York State.
A large audience comprised of educators, artists (especially other print-makers from the Flower City Arts Center), and Ukrainian community activists listened to Pylyshenko as he chronicled his career in the arts and his connection to the local Ukrainian arts community. Pylyshenko noted his strong relationships with the SUNY at Brockport faculty as being one of the driving factors for his success as a person and as an artist. He also mentioned the support he received from RIT faculty during and after his graduation from RIT many years ago.
After concluding his remarks, the audience had time to meet with Pylyshenko and his spouse, Irma Pylyshenko – herself a member of the SUNY Brockport faculty and former Chair of its renowned Dance Department. Pylyshenko continued his affable camaraderie with the friends and supporters late into the evening. The exhibit will continue through January 2018.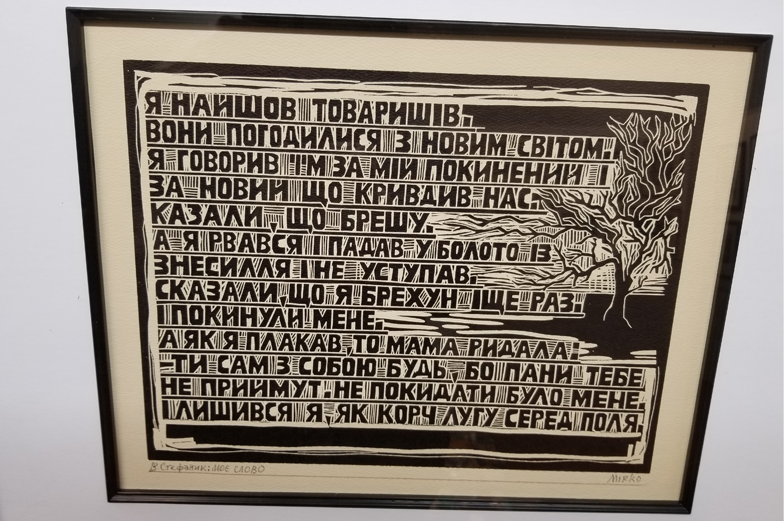 Proceeds from the sales at the exhibit will go to the Sister Cities (Irondequoit-Poltava, Ukraine) Orphanage Fund and for support to the Flower City Arts Center.
Evhen Lylak Ed.D.
Professor, RIT/NTID