Grant awarded to Bivona Child Advocacy Center, takes people helping people approach to healing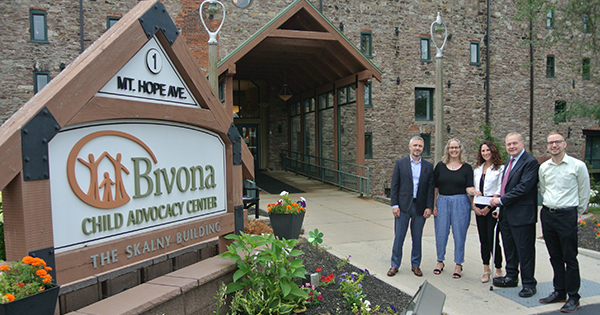 Pictured L-R: Oleg Lebedko (CEO, UFCU), Deb Rosen (Executive Director, Bivona Child Advocacy Center), Jaime Anderson (Director of Development, Bivona Child Advocacy Center) Roman Omecinskyj (CFO, UFCU), Alex Nowosiadlo (Controller, UFCU).
Rochester, New York | July 28, 2021
Nestled in the heart of downtown Rochester Bivona Child Advocacy Center ("Bivona") strives to deliver excellence in child abuse response, healing and prevention through collaborative service, awareness, education and leadership. Bivona's primary focus is children and families and offers multidisciplinary services and support ranging from Child Protective Services, law enforcement, prosecutors, medical professionals, therapists, advocates, to volunteers. Throughout the year Bivona and its teams work together to help those seeking hope and healing. Bivona also offers many free resources, training materials, and ways to get involved on their website: https://www.bivonacac.org/. We invite our members, families, and friends of UFCU to learn more about Bivona Child Advocacy Center.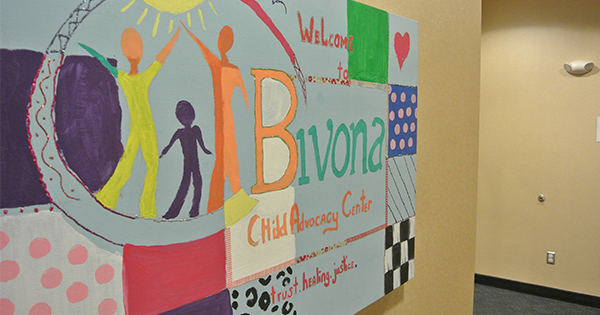 As a credit union, it's within our philosophy to help our communities however possible, and more so now than ever. Thanks to the Federal Home Loan Bank of New York ("FHLBNY"), whose primary mission is to advance community development and housing opportunities. UFCU again allocated grant funding to organizations throughout New York. On Wednesday, July 28, 2021, UFCU presented a $10,000 grant to Bivona Child Advocacy Center. We believe that these funds will provide some much-needed financial relief during this challenging time.
About the COVID-19 Small Business Recovery Grant
In 2020 UFCU applied for and received $200,000 in grant funding from the FHLBNY as part of a COVID-19 financial relief program. UFCU then allocated those funds to 47 different grantees across 9 counties in New York including various cultural centers, churches, museums, art foundations, youth associations, and other volunteer organizations. The program is intended to support the financial security and health of workers employed by organizations that have suffered a decrease in revenue as a result of the ongoing COVID-19 crisis.
In 2021 UFCU reapplied for and received an additional $150,000 in grant funding from the FHLBNY as a continuation of the COVID-19 financial relief program. Eligibility in 2021 is limited to organizations in New York that did not yet receive grant funding.
FHLBNY is a private, non-governmental wholesale bank within the national Federal Home Loan Bank System.