April is Credit Union Youth Month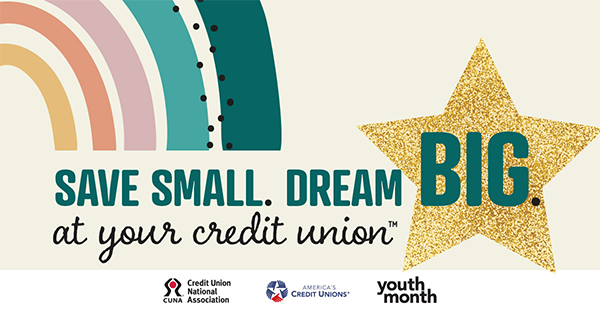 April is National Credit Union Youth Month and Ukrainian Federal Credit Union (UFCU) wants to help kids fulfill their big dreams. Our youth are our future, and we are committed to setting them up for financial success. That is why we have a special savings account – the Mitten Club – just for our members aged 0 to 17, and not just that, UFCU will offer various incentives throughout the month of April to encourage our youth to save small and dream big. And parents, grandparents, we need your help to make this happen!
→Parents, grandparents, not members yet? Open your account online today!
What is UFCU offering to members and potential members during the month of April?
$25 gift deposit for NEW Mitten Club accounts opened at one of our 13 branches
UFCU Savers Share Certificate Special → 5.00% APY* for 1 year and up to $1,000
Additional incentive for parents/grandparents that open additional products/services like the below. Members who deepen their relationship with UFCU over the course of April will be automatically enrolled into a raffle drawing to win $250 to be awarded – by the member – to a Ukraine-focused charity/organization of the winner's choice.

Share Draft (Checking) account + Debit Card
Auto transfers from parent/grandparent
→Click here to learn more about our promotions.
Dreaming big doesn't mean you need to start with big actions. The first small step is usually the hardest, but once it's taken, you can use momentum to propel you forward.
→Click here to learn more about UFCU savings accounts.
UFCU has tools to help fulfill these dreams. With a Mitten Club youth savings account that earns compound interest, young members can deposit small amounts on a regular basis and watch their savings grow "like magic." The earlier they start a savings account, the more it will grow, and the easier it will be to achieve their dreams. Learning this good financial habit at a young age will set them up on the path of successful financial well-being.
If you have been wondering how to empower your kids to save for their future, National Credit Union Youth Month is a great opportunity to start! Join us this April as credit unions across the country encourage youth to start saving regularly.
Please visit a branch to open a Mitten Club account for your child or grandchild.
---
*APY is Annual Percentage Yield. Rate is effective 4/1/22 – 4/30/22. Minimum deposit is $100. Maximum deposit is $1,000. Rate available only to Mitten Club Members who are 17 years of age or younger. No rate adjustment on prior share certificates. There is a penalty to withdraw the money (principal) you deposited into your Certificate before it reaches the maturity date. You may withdraw the dividend earned at any time w/o penalties. The APY will remain in effect for the term of the certificate. No additional deposits are allowed during the term of the share certificate. The certificate will automatically renew for the same term at the most current regular rate, unless the member closes the account during the 5 day grace period. 30 day notice will be sent before the certificate's maturity date. Limited to one account per member. Dividends are compounded and credited quarterly. Fees may reduce earnings. Federally insured by NCUA.